Front Door
Today's XKCD is funny: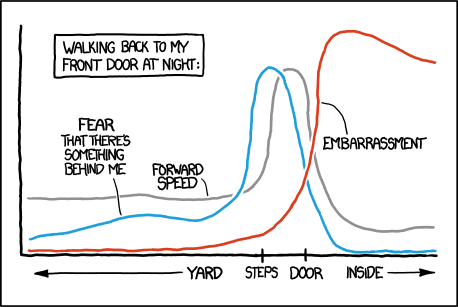 But it's worth remembering what a court reporter
said
in the NY Times City Room's "
Ask a Court Reporter
" series. A reader asked:
"Has anything you've ever heard/witnessed in a courtroom affected you in such a way that made you change something about your life?"
And the court reporter answered:
"Yes, Josephine. Something specific that comes to mind is when I was working at the Manhattan district attorney's office, unfortunately there were many women who came to testify about being sexually assaulted. A lot of the attacks would happen late at night as the woman would unlock the front door to her apartment building, and the attacker would come up behind her and push her into the building. At that time, I was living in a ground-floor apartment in Brooklyn, and hearing victim after victim testify to being pushed into their apartments without even seeing the perpetrator coming up behind them significantly changed the way I entered my own apartment."
So trust your instincts. Look around before you unlock the door, and then quickly get inside. There is no reason to feel embarrassed about being careful and safe.