The Reason I Am So Inefficient
Today's XKCD
is a good illustration of my old point about bounded rationality: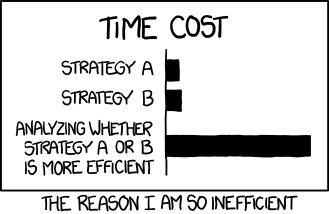 Of course, if you already knew the time cost of A and B, then there would be no problem. But if you have to spend some amount of processing power analyzing A and B, and if processing power is scarce, then you are faced with a higher-level optimization problem, which may itself demand processing power to solve (in this cartoon, much more processing power than is actually saved).
I'll write a more complete post about this soon. I think it is actually a reasonably deep problem that should influence our conception of rationality.